At Manookian Cellars, our limited production wines capture the distinct varietal characteristics of our grapes and the terroir of the vineyards. We blend variety and vineyard with a vision for uncommon craftsmanship. Ageless classics are refreshed with crisp contemporary charm. We explore the highest quality grapes to bring flavors of old and new, bold but subtle, simple yet complex.

2009 CABERNET SAUVIGNON
Napa Valley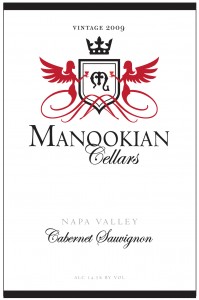 Originating from a hillside vineyard at the southeastern end of Napa Valley the 2009 Cabernet Sauvignon is a quintessential Napa Cab. The slightly cooler climate coupled with a mix of well-drained river rock and mineral-rich volcanic ash soil result in berries with deeply structured and robust tannins and a well developed fruit profile.
Tasting Notes:
Saturated purple color, followed by a fragrant nose of blueberries and cassis. In the mouth, subtle doses of plum, currant and toasted oak emerge. This multi-layered wine possesses well structured tannins, a voluptuous texture, and superb concentration and purity. It is an opulently styled Cabernet Sauvignon to drink now and over the next decade.
Specials:
Buy 3 bottles and receive free shipping Buy 6 bottles and receive free shipping plus a 10% discount Buy a case and receive  free shipping plus a 15% discount

2010 CHARDONNAY
Santa Lucia Highlands
An un-oaked Chardonnay in the Northern Burgundy tradition originating from the Santa Lucia Highlands, our 2010 Chardonnay is an expression of the terrior. Attention to detail, extraordinary skill and creativity of our winemaker makes it stand out as a truely special wine.
Tasting Notes:
Our un-oaked Chardonnay boasts an attractive light golden-straw color.  Lush, concentrated and crisp on the palate, its ripe apple, melon, bright citrus and baking spice flavors culminate in a long, beautifully structured finish boasting balanced  acidity and zesty mineral and spice tones. Sumptuous, yet refreshing!
Specials:
Buy 3 bottles and receive free shipping Buy 6 bottles and receive free shipping plus a 10% discount Buy a case and receive  free shipping plus a 15% discount

FUTURE RELEASES
2010 CABERNET SAUVIGNON
Coombsville, Napa Valley (Anticipated release date: February, 2012)
2011 CABERNET SAUVIGNON
Coombsville, Napa Valley (Anticipated release date: February, 2013)
2011 CHARDONNAY
Santa Lucia Highlands, Monterey County (Anticipated release date: February, 2012)